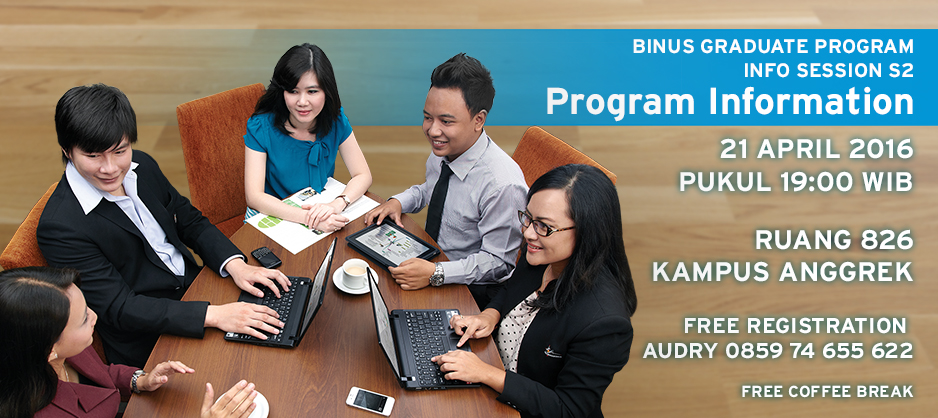 "The program is available at both the JWC and Alam Sutera campus, during week day evenings"
 Who is this Degree for?
BINUS BUSINESS SCHOOL The Masters in Management (MM) in Business Management for Young Professionals is a Master program done 100% in Indonesian language,which is designed from the ground-up to complement any undergraduate degree. Students taking this program will acquire thorough understanding of the functions and drivers of business of today's Knowledge Economy. Students with little work experience or fresh-graduates should have no problems taking MM-Business Management for Young Professionals.
Like most management programs, the curriculum of MM-Business Management covers a broad and comprehensive overview of topics in business and management. Unlike other management programs, information technology is strongly emphasized and linked to various subjects in the curriculum. The role of information technology in business can not be dismissed in the Digital Economy.
Each subject taught in this program will contribute to a totality of understanding of management theory, and how that theory is specifically applied to everyday practice, in the rough-and-tumble world of real business.
BENEFITS OF THE PROGRAM
This program focuses on a variety of situations and challenges encountered in everyday business practices, as well as on strategies, processes, and practical applications involved in meeting stakeholder needs. Students will access the most current conceptual and analytical developments in management practice. They will also access insights for developing and implementing sustainable customer value. Moreover, they can acquire soft skills for aligning and balancing the various – and often conflicting – needs and demands of various stakeholders: shareholders, workers, community, media, government, and the public at large.
The BBS MM-Business Management for Young Professionals Program is designed to:
Enhance the understanding and acquisition of skills required to be an effective manager in industries such as consumer goods, manufacturing, technology, and services;
Understand most current conceptual and analytical developments in management practice essential to the contemporary manager;
Gain insights from managerial and top management viewpoints for developing and implementing sustainable customer values; and
Align and balance different (and often conflicting) needs and demands of various stakeholders: shareholders, workers, the community, the media, governmental authorities and the general public.
Benefits
Curriculum : Well balanced between theory and practice, relevant to Indonesia context
Case Studies : Harvard, Stanford, INSEAD and other prominent universities
Awarded byMURI for accomplishing 100+ local case study within 4 years.
C-level seminar from prominent companies: CEO, CFO, CMO
Trial Classes available.
Global immersion programmers (Voluntary).
Member of EFMD – European Foundation of Management Development
"A" Accreditation Based on the decree from Badan Akreditasi Nasional – Perguruan Tinggi
(BAN-PT) No: 22/BAN-PT/Ak-IX/S2/X/2011, October 28th, 2011, Magister Management Program.
Good Networking with Industry and alumni support
Seminars by visiting foreign professors
CURRICULUM
Semester
Course Name
SCU
Semester 1
Financial Fundamental
3
Marketing Fundamental
3
Accounting For Manager
3
Business Statistics
3
Ethics & Social Awareness
3
Total Credit
15
Semester 2
Research Methods
3
Leadership & Organizational Behaviour
3
Strategic Management in Business
3
Business Communications & Interpersonal Skills
3
Design Thinking – Entrepreneurship
3
Thesis 1
0
Total Credit
15
Semester 3
Information Systems Management
3
Operation Fundamental
3
Thesis 2
6
Total Credit
12
Total
42
Note: This is the latest curriculum, which still may change.
*If the participants are less than 12 persons, the class will be cancelled.
ADMISSION REQUIREMENTS
Language Proficiency
·      BBS EPT (English Proficiency Test)* >= 475
Entrance Test
·      TPA Test, only for candidates with GPA < 3.00·      Total Score (GPAx200)+ TPA >= 1000
GPA  >= 2.5, Fresh Graduate (max. 2 years from graduation)
 *Institutional TOEFL: valid =< 1 year
*International TOEFL: valid =< 2 years
---
PROGRAM FEE
Young Professional Program
Application Form
Rp. 600.000,-
MM in Business Management
Rp. 75.000.000,-

Scholarship Available (for detail information, please contact BINUS BUSINESS SCHOOL Customer Service)
Discount of 5 million for BINUS S1 graduates
(only for the enrollment & payment transaction on the 1st batch)  valid for non BINUS S1 graduates
For more information, please contact: Mr. Panji at 021 – 720 3333 ext. 3120 or email [email protected]
PROGRAM DURATION
The period of MM Business Management for Young Professionals Program will be delivered for 18 months (3 Semester).
Classes are conducted on weekdays between 06.30 – 09.30 pm. Courses (classes, assignments, exams & thesis) are delivered in Bahasa Indonesia but teaching materials are in English
REGISTRATION DATE
| | |
| --- | --- |
| Registration | June 2nd – July 20th, 2016 |
| Entrance test (BBS EPT) | July 22nd, 2016 |
| Entrance test (TPA) | July 23rd, 2016 |
| Results announcement | July 27th, 2016 |
| New intake briefing | August 31st, 2016 |
| Case study & Bus. Math simulation | September 1st, 2016 |
| Mandatory Matriculation Out bound | To Be Announced (TBA) |
| First day of class | September 5th, 2016 |
WHO THIS PROGRAM IS FOR
BINUS BUSINESS SCHOOL MM-Business Management for Young Professionals is designed for fresh-graduates or those having little work experience. The program is designed to help its graduates to become more competitive and effective in the new era of e-business in Indonesia and Asia-Pacific. It is designed for young professionals wishing to strengthen basic concepts and acquire advanced theories and practices, building on their early corporate or industry experiences. Students graduating from this program are better equipped to perform the management roles in their respective organizations.

COURSE DELIVERY
This course uses an interactive and experience-based approach by offering the skills needed to apply today's management concepts and not only the theoretical foundations of marketing:
The BINUS MM Business Management for Young Professionals Program is designed to equip students with the following skills:
Using active training methods such as case studies, group presentations and management games/simulations.
By going on company visits and learning from practicing managers (guest speakers)
The program is developed and delivered in consultation with senior management professionals so it reflects the significant changes and challenges in executive practice.
CASE STUDY BASED PRACTICUM
Much classroom work is founded on case studies and group presentations are incorporated into the MM Program. Exploiting the dynamics of small-group problem-solving, students work to analyze business challenges, both traditional and unexpected ones, and formulate alternative solutions for classroom presentation.
A TEAM OF EXPERIENCED INSTRUCTORS
The reader cannot help but be impressed by the breadth of experience and depth of knowledge possessed by our staff of instructors (refer to the attached table). BINUS pedagogical methodology strives to fuse theory, practice and experience into a coherent, useful learning package, delivered by well-prepared instructors from backgrounds in academia and industry.
Some of our staff runs their own companies, specializing in areas such as crisis management or public relations. Others are able to put to use their long years of experience in multinational corporations, applying knowledge and expertise to real-life business problems and solutions.

FACULTY MEMBERS
FACULTY MEMBERS – Real industry practitioners with high international exposures
Agustian Prasetya, Ph.D
Alfiantono, Ir., MBA
Bun Sucento, MBA, M.Mgt., Chartered Marketer (CIM-UK)
Edi Abdurrahman, Ph.D, Prof.
Gabriel Hadylaw, MM
Heru Yuwono, MBA
Pantri Heriyati, Dr.
Petrus Setya, AK, MBA
Rofikoh Rokhim, Ph.D
Samuel Dossugi, Ph.D
Sri F. Tarmizi, Ir., MBA, DMS
Tarsicius Sunaryo, Ir., MA, Ph.D